Kayaking & Canoeing
Fishing from your kayak or canoe can be a very exciting experience around Florida. We have thousands of miles of canals, mangrove islands, and bays chock full of fish. Choose your poison, either freshwater, saltwater, or brackish, then check out one of our launch sites to access great fishing. You can also launch your kayak at the beach for some great shore fishing.
We also have many Kayaking & canoe events throughout the year, check to local What's Happening listings for the latest happenings. And don't miss the Great Dock Canoe Race every 2nd Saturday in May in Collier County (fishing during this crazy event is not advisable).
"Sleigh Ride" is a term kayak fisherman use to describe what happens when you hook up a huge fish such as a Tarpon or Shark. Helpless kayak anglers can literally be dragged for miles if they do not learn how to use their kayak to create drag in order to control the situation. Watch this video of a Tarponn being caught by a kayak angler in Satellite Beach during the summer Tarpon migration north.
If you plan to be out on the water all day, be sure to wear sunblock and a hat. Local paddlers that are out all the time usually take extra precautions and cover most of their skin to prevent burns and skin cancer. This guy even has lightweight gloves to protect his hands.
Be sure to visit our Boat and Kayak Launch Directory.
Our inshore waters appear very calm, but the tides can be very strong at peak times, especially during moon tides. Even the strongest most experienced paddler can struggle against the current. Riding the tides in and out can be a lot of fun if timed correctly, so check the tides before you get your paddle wet. Also check out area charts so you don't get lost the tangle of mangrove islands or the vast waterways of the Everglades.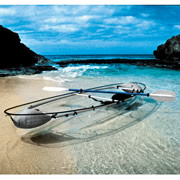 The Transparent Canoe Kayak
This is the coolest kayak-great for Florida exploring!
Kayaking & Canoeing by Region
Northwest
No Central
Central West
South West
Central
North East
Central East
South East
The Keys